---
5 lines with nails
Technique: Action-Installation. Varied Mesures. 5 lines of n meters long with nails spaced by 1 cm + audio of the action that took place.
2014 - Zona Vacía. Le Laboratoire Gallery. México City. Curator: Michel Blancsube.

2014 - SONOPLASTIA. MACO Museum. Oaxaca. Curators: Manuel Rocha Iturbide and Roberto Arcaute.
The first version of this installation took place at the Le Laboratoire gallery (at my solo show "Zona Vacía" on April 2014). When you hammer five lines with nails, you create 4 empty spaces that could be interpreted as an empty Musical pentagram, in silence. Nonetheless, this action requires lots of hammer strokes in order to take place. It is inevitable to make noise. The action requires a method in order to take it in an efficient way and in the quicker time possible. This method ends up with many hammering cumulus alternated with silences in between, and the whole could be taken as a non-voluntary musical composition.
While doing this action other sounds of the soundscape were recorded, so all these sounds ended up getting inserted in a different and delayed space, a pair of head phones hanging at the end of the wall, that you could use or not, in order to listen to the action that took place. Also, creating an empty pentagram by hammering nails in straight lines is a useless job, because the nails get crooked, and at night, the artificial light brings up shadows, so this work is inevitably permeated by visual and acoustic noises.

In the second version I used 4000 nails for concrete of 1/4 inch, equivalent to 25 kilos of weight. The action lasted 15 hors approx.
Excerpt of first version at Zona Vacía. I knailed 5 lines in the gallery entrance wall, 3 meters and something. The action took 6 hours, eight minutes and five seconds.
Excerpt of second version at SONOPLASTIA. The action took 15 hours approximately.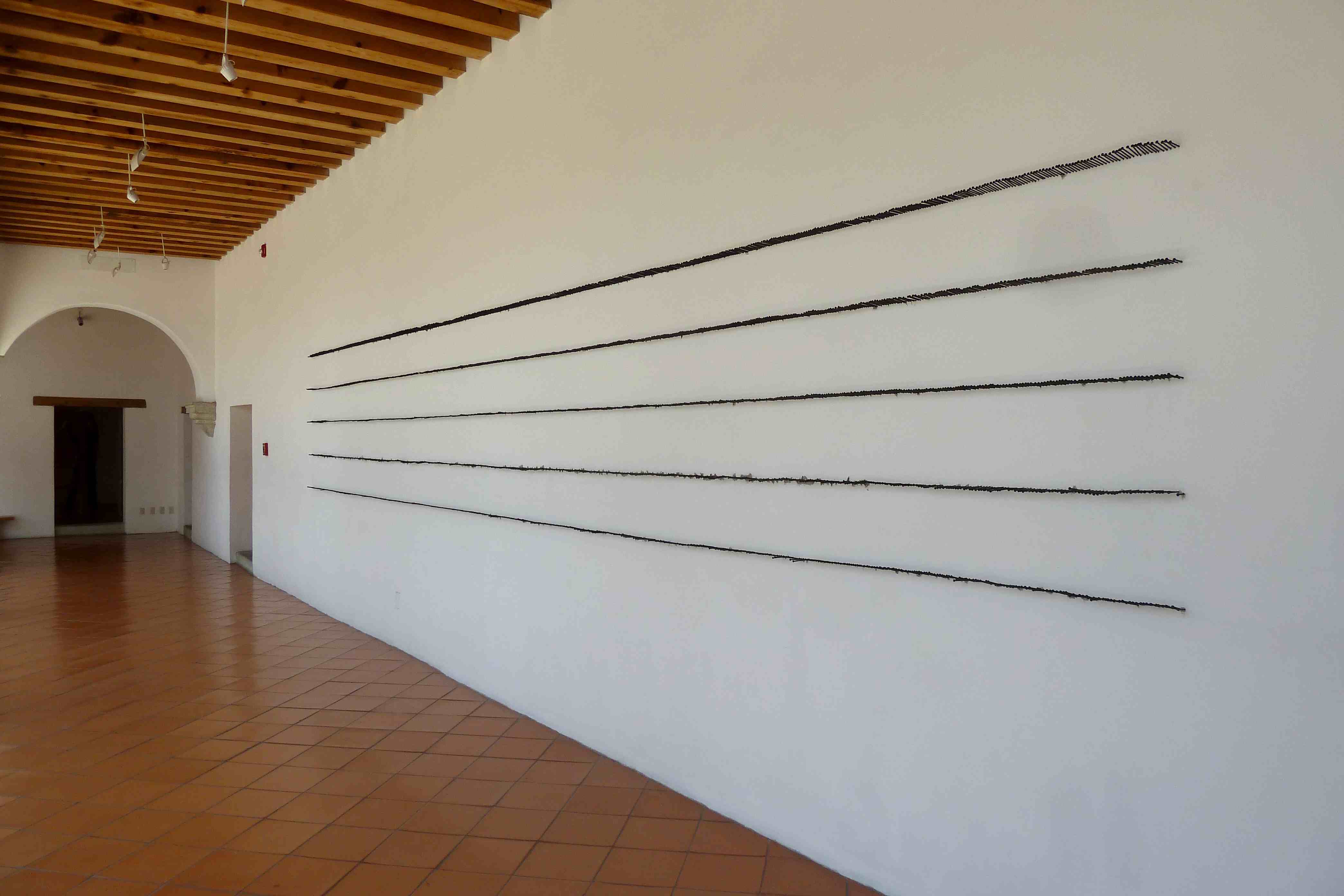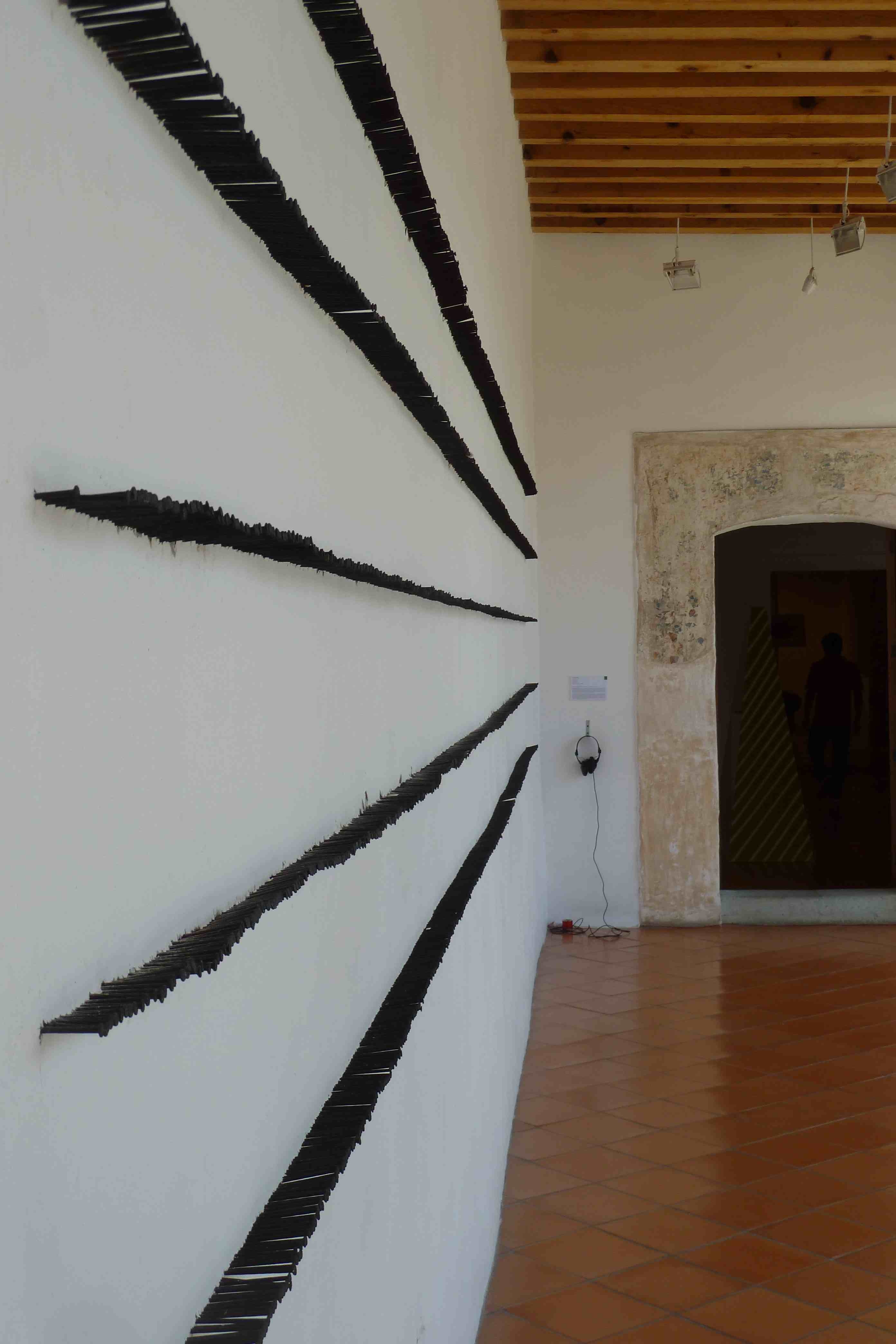 2014 - SONOPLASTIA. MACO Museum. Oaxaca.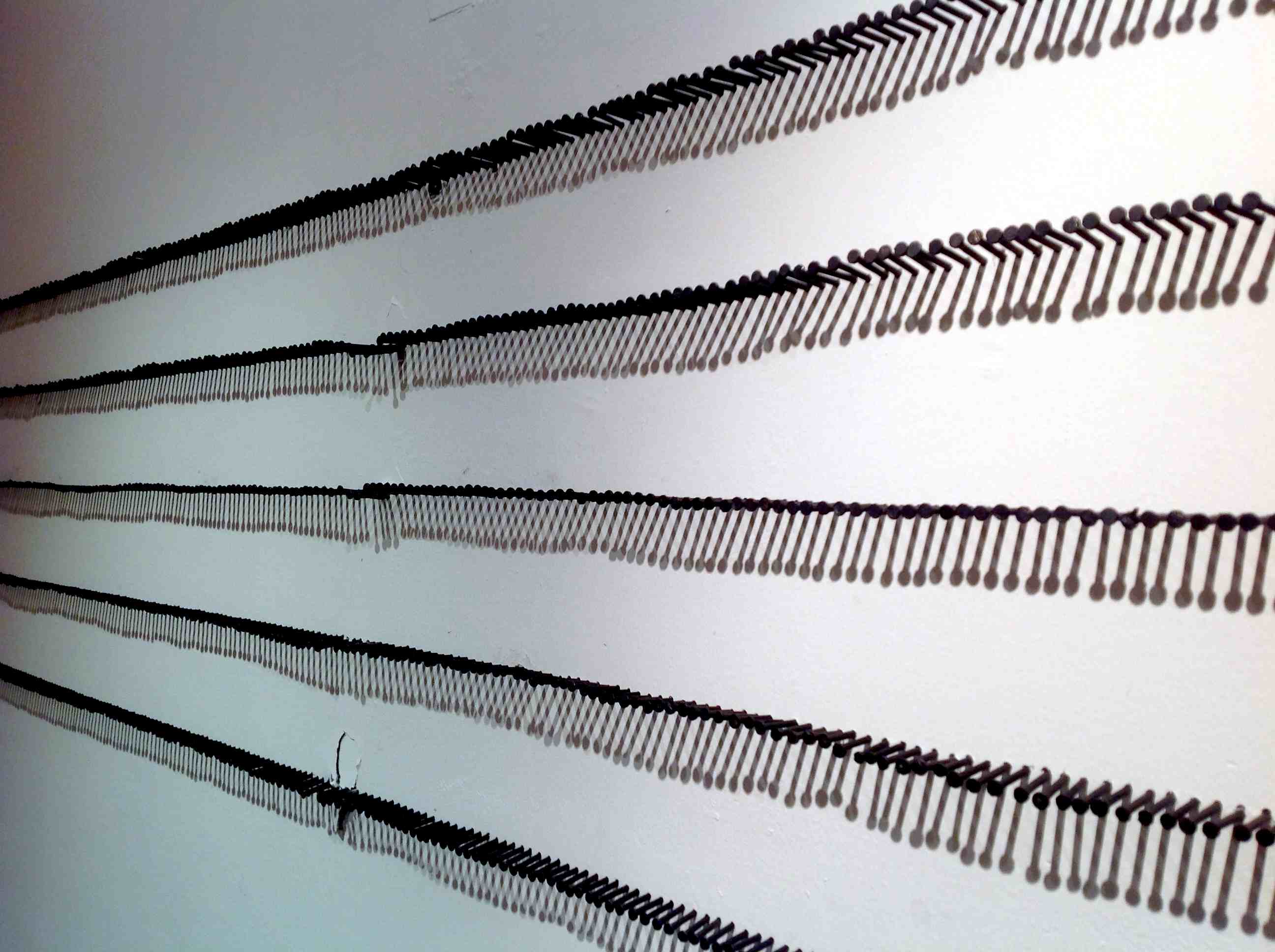 2014 - Zona Vacía. Le Laboratoire Gallery. México City.
5 líneas con clavos
La primera versión de esta instalación se llevó a cabo en la galería Le Laboratoire en la exposición individual "Zona Vacía" en Abril de 2014. Al clavar cinco líneas con clavos se crean cuatro espacios, cuatro vacíos tridimensionales enmarcados por las cinco líneas que pueden interpretarse como un pentagrama musical vacío, en silencio. Sin embargo, esta acción requiere de muchos cúmulos de golpes de martillo para poder ser realizada. Es inevitable hacer ruido. La acción requiere de un método que nos permita llevarla a cabo de manera eficaz y en el menor tiempo posible. Este método repercute en la generación de clusters rítmicos espaciados por silencios que podrían ser considerados como una composición "musical" involuntaria.

Por otro lado, al realizar la grabación de la acción, distintos sonidos del medio ambiente circundante fueron también captados. Tanto la "música" generada por los golpes del martillo, como los demás sonidos contaminantes, terminan insertándose en este vacío (de manera diferida pues el espectador primero ve el resultado visual, y descubre al último la documentación sonora). Al mismo tiempo, el intento por crear 5 líneas derechas y parejas es fútil, ya que la pared puede romperse en varios de los puntos. Igualmente, por la noche la luz artificial produce sombras pronunciadas en los espacios vacíos. La obra se impregna entonces inevitablemente de ruidos tanto visuales como sonoros.

En la segunda versión de esta acción se utilizaron 4000 clavos para concreto de 1/4 de pulgada que equivalen a 25 kilos de peso, y la acción duró 15 horas aproximadamente.
---