---
La Tensión Extendida - The Extended Tension
Technique: Sound Installation. Electric Guitar. EG Amplifier. 6 long Brass Strings. Tensors. Instructions.
2013 - El Futuro hoy. Aldea Digital. Art and technology exhibition. México City.
2013 - Zona Maco. Le Laboratoire Gallery at the MACO Art Fair. Mexico City.
2013 - CON.TENSIONES. Fonoteca Nacional. Mexico City.
2014 - La Tensión extendida THREE WALLS. San Antonio Texas. USA.
La Tensión Extendida - Video Three Walls, San Antonio Texas.
This installation is about the tension of a paradigmatic musical object from the XX century electronic era: the electric guitar. It is an instrument with a karma tied to the idea of tension in rock and roll. It is the tension of the strings, the tension of the guitar player that seeks for redemption, the tension of the listener that searches catharsis in order to find later the distension in the resonance of the last guitar attack of the song.
The tension in this installation is extended in space through the element that originates sounds, the strings, whose longitude is not limited by the guitar´s arm. Their extension depends completely upon the space in which the guitar lives, taking up its totality. The guitar is found in suspension, tensed, inert and in silence, but appears to be floating and confortable. Plucking any of its extended strings moves the guitar in space. The guitar vibrates entirely and stops being the primary body in order to be converted into the heart of a new expanded object.
But there is no sound; only the public is capable of breaking up with the silence, acquiring then a responsibility, a challenge. The installation is accompanied by a score with suggestions by the artist, that aids the viewer to confront the dichotomy between silence and sound, and helps him to find the just point between the contemplation of the unfolded object and the aural experience of its extended strings.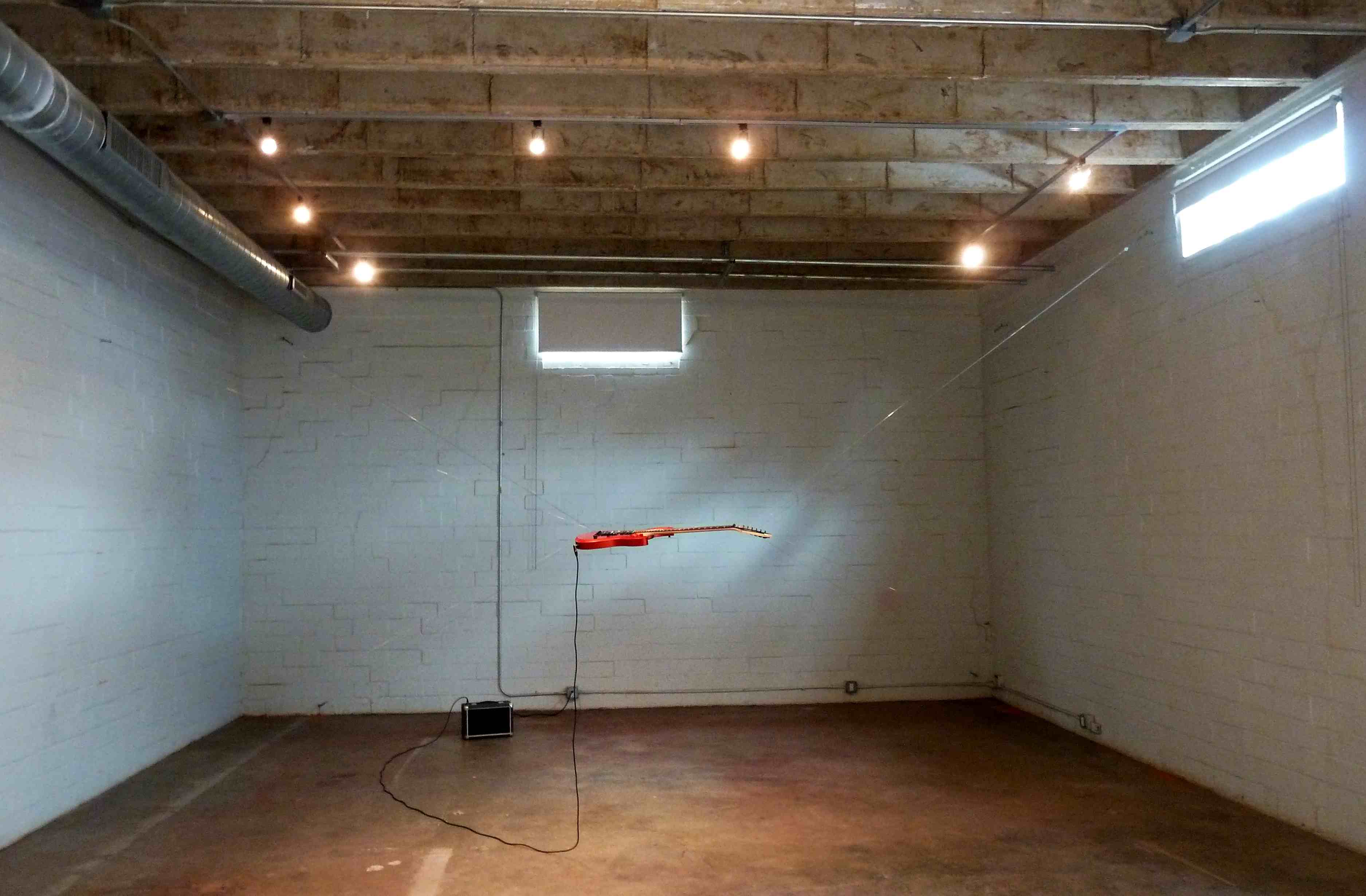 THE INERT GUITAR IN SUSPENSION, AWAITS -------IT FINDS ACTION IN NON-ACTION--------IT MANTAINS AN UNSOLVED TENSION BETWEEN THE OCULT AND THE EXPOSED, BETWEEN THE HIDDEN AND THE REVEALED--------ITS OPPOSED FORCES EXIST IN A CONSTANT TENSION.

IF YOU WISH TO BREAK ITS EXPOSED SILENCE, FOLLOW THESE INDICATIONS:
YOU CAN ONLY PLAY THE EXTENDED STRINGS--------DONT PLAY A STRING, UNLESS YOU THINK THAT IT IS ABSOLUTLY NECESSARY TO DO IT--------WAIT UNTIL THE STRING THAT YOU PLAYED (OR THAT OTHER PARTICIPANT PLAYED), HAS ALLMOST FINISHED VIBRATING BEFORE YOU PLAY THE NEXT STRING.

YOUR INNER SILENCE, EQUIVALENT TO THE GUITAR SILENCE, IS IMPORTANT.

NON-ACTION CAN BE BETTER THAN ACTION, BECAUSE IT COULD INDUCE YOU INTO THE VISUAL AND AURAL CONTEMPLATION OF THE EXTENDED OBJECT.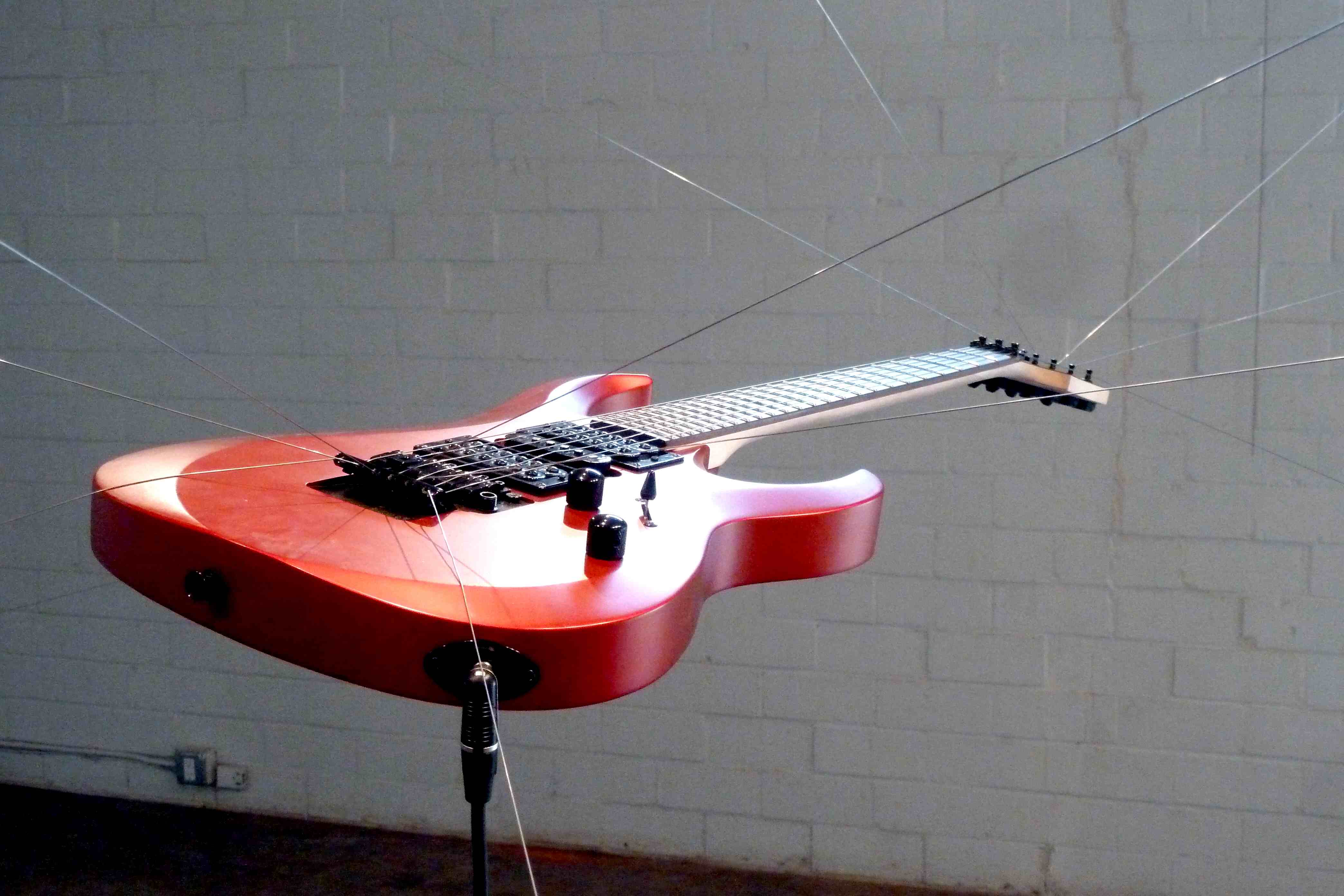 La Tensión Extendita at Three Walls. San Antonio texas. USA. 2014.
Esta instalación trata de la extensión de un objeto musical paradigmático de la ingeniería de la era electrónica del siglo XX: La Guitarra eléctrica. Se trata de un instrumento dotado de un karma ligado a la idea de la tensión en el Rock and Roll. Es la tensión de las cuerdas, la tensión del guitarrista que busca el desahogo, la tensión del oyente que busca la catarsis para encontrar luego la distensión en la resonancia del último ataque guitarrístico de la canción.
La tensión en esta instalación se extiende en el espacio a través del elemento originador del sonido, las cuerdas, cuya longitud no está delimitada por el diámetro del brazo de la guitarra. Su extensión depende por completo del espacio en el que la guitarra se encuentra, abarcando así su totalidad. La guitarra queda en suspensión, tensada, inerte y en silencio, pero parece estar cómoda flotando. el rasgueo de cualquiera de sus cuerdas extendidas no solo produce un sonido que se debe a esa extensión, sino que además mueve a la propia guitarra en el espacio. La guitarra vibra en cuerpo entero al mismo tiempo que sus cuerdas. El objeto guitarra eléctrica es sobrepasado por ellas y deja de ser el cuerpo originario para convertirse en el corazón del nuevo objeto expandido.
Sin embargo, no hay sonido, solo el público puede ser capaz de romper con el silencio de la tensión extendida, adquiriendo así una responsabilidad, un reto. La instalación esta acompañada por una partitura o modo de empleo en donde se sugiere de que modo puede uno confrontar la dicotomía silencio-sonido, para tal vez encontrar así el punto justo entre la contemplación del objeto desdoblado y la experiencia aural de sus cuerdas extendidas.
La tensión extendida fue un encargo de la curadora daniela elbahara para el proyecto de la exposición de arte digital en la feria "ALDEA DIGITAL" de INFINITUM TELMEX en el zócalo de la ciudad de méxico en marzo de 2013. Posteriormente se expuso en la galería "Le laboratoire" en zona maco, y obtuvo el premio de adquisición que otorga Tequila cuervo 1800 a artistas de media carrera.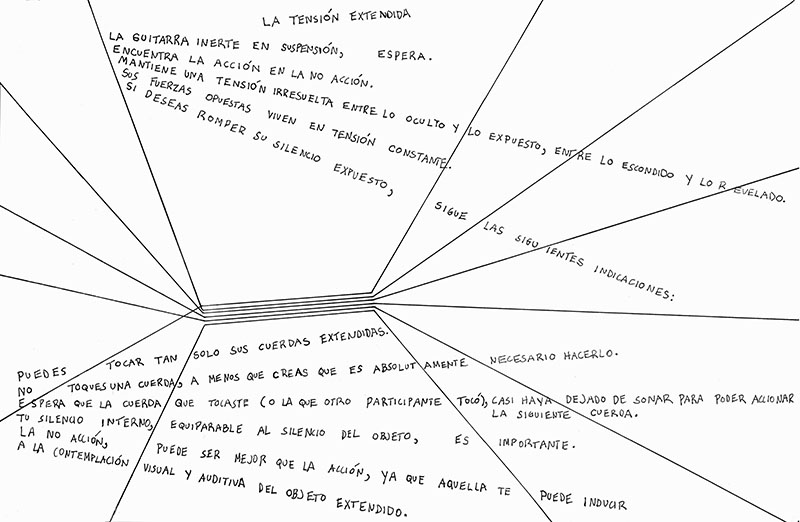 La Tensión Extendita Instrucciones. 2014.
---