---
Crime scene reconstruction
Technique: 4 broken glasses, 1 glass, 5 speaker cones. Three amps. 5 Audio tracks.
1998 – First international sound art festival. Mexico City.
2002 - LASCAS, un arte mexicano actual. AVATAR art space, Quebec Canada.
The origin of this sound sculpture consists in the registration of a premeditated crime: breaking four glasses against a metal surface, and recording the sounds of these actions. The fragmented corpses of the glasses were recuperated and rearranged inside their fractured bases; they were placed later over small loud speakers which produce sounds of the broken glasses transformed by a computer; the result is similar to the sound obtained when we rob the surface of a wine cup with watery fingers. These long and continuous sounds provoke vibrations to the fragmented remaining of the glasses, which move and create other discontinuous sounds. Nevertheless, there is a fifth unbroken glass over a speaker, which is placed in the middle of the other glasses. Coming out in a random way from this speaker, we have the original non-transformed sounds of the glasses breaking up. The result of all these actions is like a reconstruction of the facts of a crime, in which the continuous circular form of the original unbroken glasses and the discontinuous character of the useless broken pieces of the annihilated gasses, coexist both with their respective continuous and discontinuous sounds.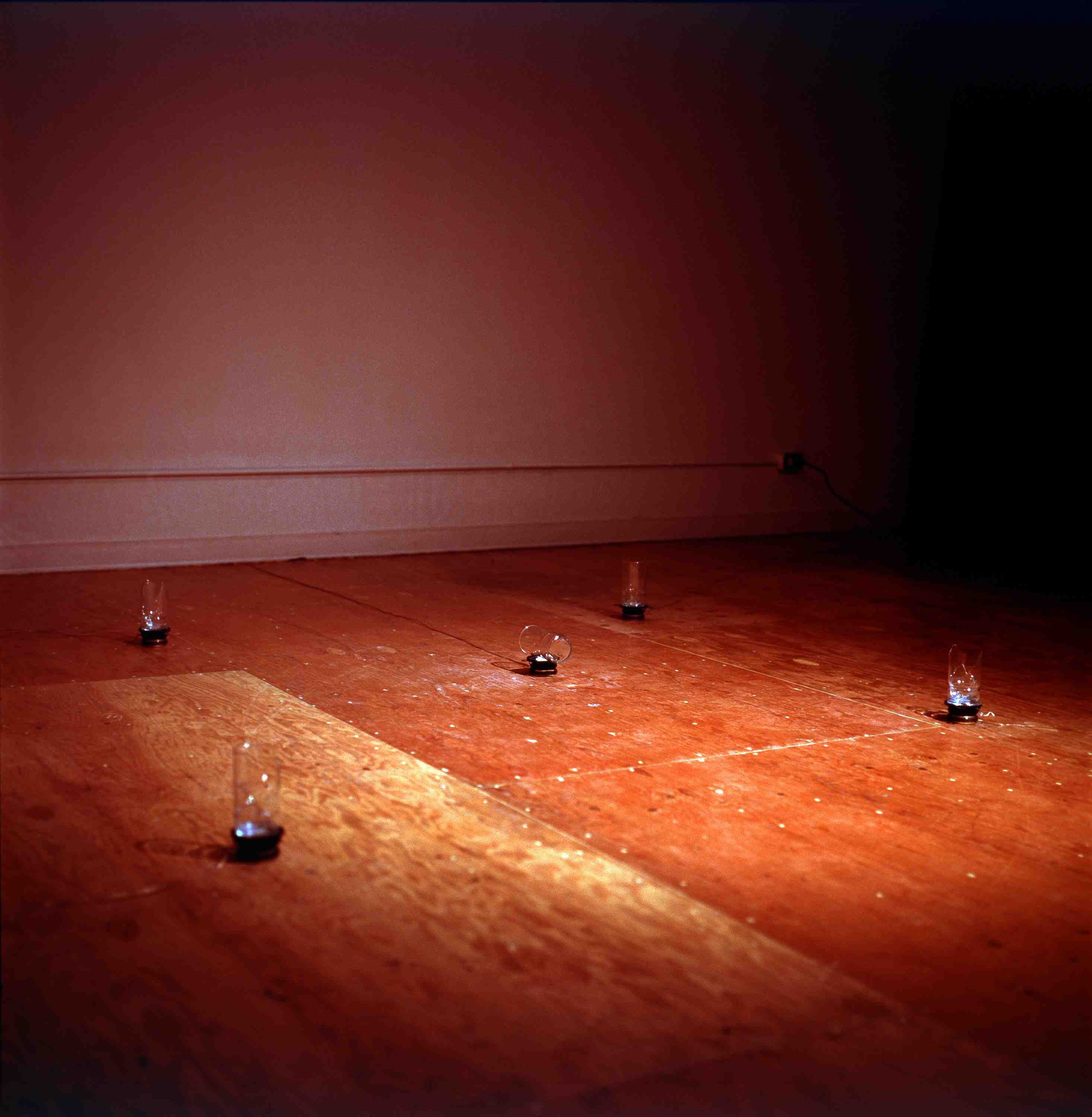 LASCAS, un arte mexicano actual. AVATAR art space, Quebec Canada.
---
Reconstrucción de los Hechos
El origen de esta escultura sonora consiste en el registro de un crimen premeditado: el rompimineto de 4 vasos de vidrio contra una superficie de metal, y la grabación de estas acciónes. Los restos de los vasos rotos fueron luego recuperados y colocados dentro de sus fracturadas bases, y estas fueron colocadas sobre pequeñas bocinas (parlantes). Los sonidos que salen de éstas bocinas son los sonidos de los vasos rotos transformados en una computadora, cuyo resultado es similar al frotamiento de un dedo humedo sobre la superficie de una copa de cristal. Estos sonidos contínuos provocan que los pedazos dentro de cada vaso vibren, se muevan, y produzcan otros sonidos de carácter discontínuo. Existe un quinto vaso entero que no se ha roto, dispuesto sobre una bocina dispuesta al centro de las otras; de esta bocina son emitidos aleatoriamente los sonidos verdaderos de los vasos rotos. Se trata pues de una reconstrucción de los hechos en la que el caracter continuo de la forma física del vaso (circulo) y el carácter discontínuo de su aniquilamimento como objeto de uso (fragmentos de vaso roto), conviven con los respectivos sonidos continuos y discontinuos generados por la transformación organica del sonido original del vaso roto.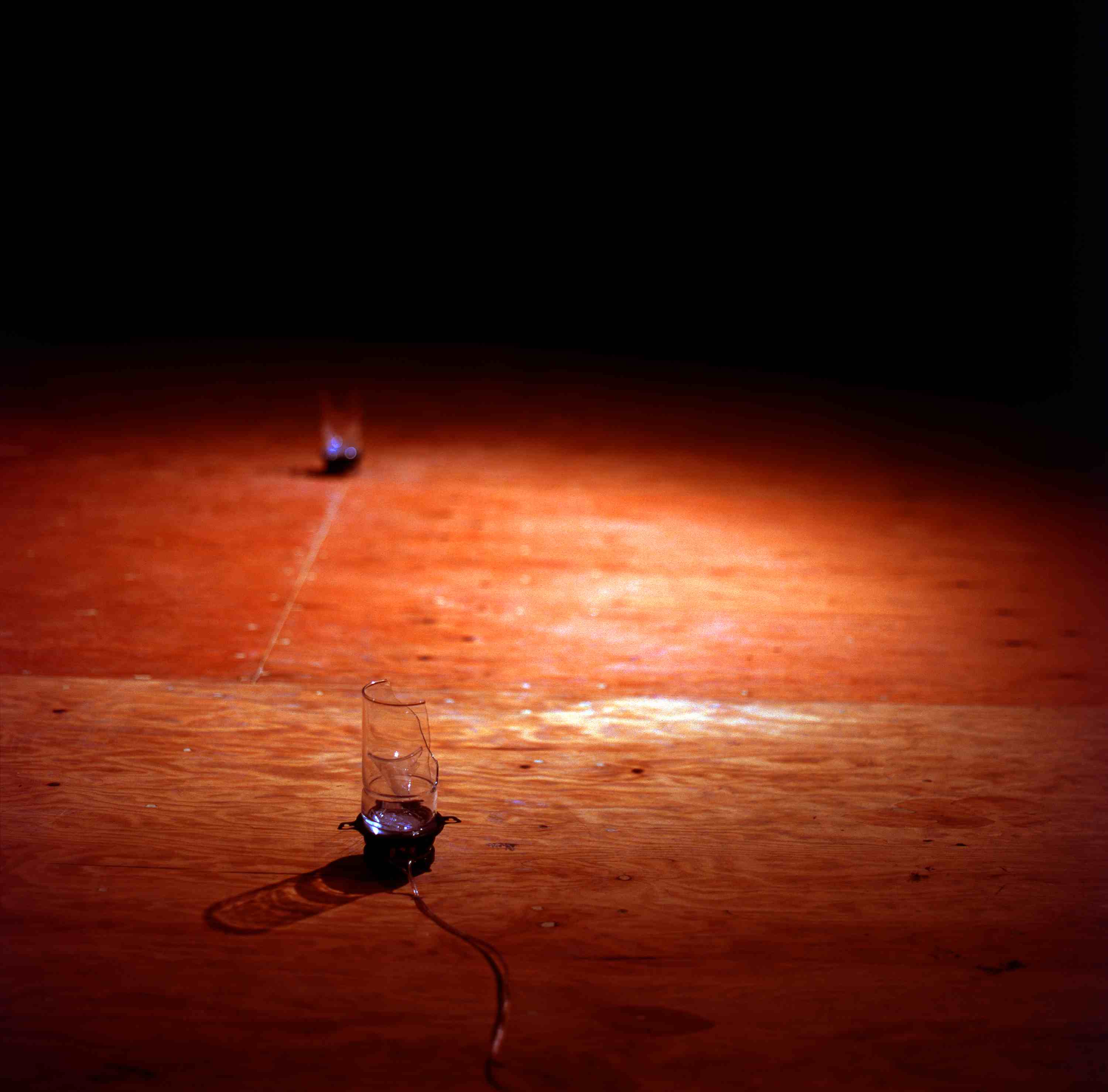 ---