---
Siete COPiAS - Seven COPyES
Technique: 7 wine cups. 7 amplified channels. 7 Relays. Computer Patch.
2011 - Cualquier semejanza con el original es pura coincidencia. Le Laboratoire Gallery. México City.
This work is about the conceptual and acoustic study of a crystal wine cup, about all the unfolded ideas and possibility's of their emptiness. The starting questions that generated this piece were: which is the fundamental frequency of an empty wine cup? And how can we make this particular object with acoustic qualities resonate (being an object that has even been used in traditional music, filling it with different quantities of water and rubbing a humid finger over its border). These questions expand when we wanted to use a set of 7 cups (1) from the same model and size, because it is impossible to obtain the same frequency from every one of these recipients. The individual imperfection of every hazardously chosen cup makes an original of its own, and having 7 Cups is equivalent to 7 different notes that make up a micro tonal scale with as much as a minor third of range (or may be even more). This would be a microtonal scale with different micro intervals.

We come up here with two problems, what is the original frequency of this Cup model? There cant be an original frequency, so may be it is only the addition of these particular set of 7 cups of the same model that were chosen by chance that will make up a virtual original sound? (The microtonal harmonic cluster). Or in reality the unique originality cannot exist?, all individual cups are only unique possible sates of the virtual original?.
Lets say that the result we will obtain is 7 different microtonal sounds, some very difficult to distinguish between them. We have now to decide what to do with them. The seven cups can be disposed over a long and narrow sort of table (3 to 5 meters long), or over a wall stack. We make every cup to resonate with a small vibrating electronic object, a Relay (2), which is a Gadget that can vibrate to different frequencies, from 2 or 3 Hertz (2 or three times in a second) up to 40, 50 or 60 Hz, whenever it is driven by a sine way sent from a computer.

The formal sound idea of this work, it to generate different sound states, starting from chance operations concerning choosing the different cups, as well as choosing the rate with which each percussive relay vibrates (2, 3, 4, 5, 6, 7, 8 Hertz for second for example (3) ).
In this way, the cups are converted into percussion objects and not into smooth resonant objects as they have been traditionally used. But at the end, my idea is to search for a musical open structure fit to deploy the unfolded personality of an utopic original and inexistent cup, by way of exploring the hazardous set of the 7 uncertain chosen cups.

Is this a music work? A sound installation? A conceptual piece? May be all three things. Evidently, the context of presentation would determine this. But the metaphor about the copy of the copy of the copy, that some times is almost the same, and sometimes very different (in terms of frequencies, because for the bare view, the cups are exactly the same) is the essence of this sound installation that in its conjunction, tells us about both the individual elements of the organism (each particular sound result of each cup) and of the whole Group (all the cups sounding at the same time). Also, we are dealing here with the study of an empty object, meant to be contained by wine. The emptiness of the cups only makes sense when instead of filling them with their elixir; we fill instead the space with the cups sounds. So, we have cups that produce their own content, but not in a liquid form, but in a sonic form.

(1) The reason of choosing number 7 has to do with symbolic meaning. We have 7 notes in the Greek scales, 7 colors of the rainbow, and other symbolic sets of 7. But this piece could also be done with 8 and 9, which are also interesting Lumber. At the end, the Lumber of corps is irrelevant; the important thing is that we are dealing with a set of elements.
(2) A relay is an electromechanically Gadget. It Works like switch controlled by an Electronic circuit that allow us to open or close other Electronic circuits. It was invented by Joseph Henry in 1835 and they were employed in telegraphy.
(3) These low frequencies are not audible, becoming then repeated rhythms that we combine between them, obtaining micro rhythmic textures.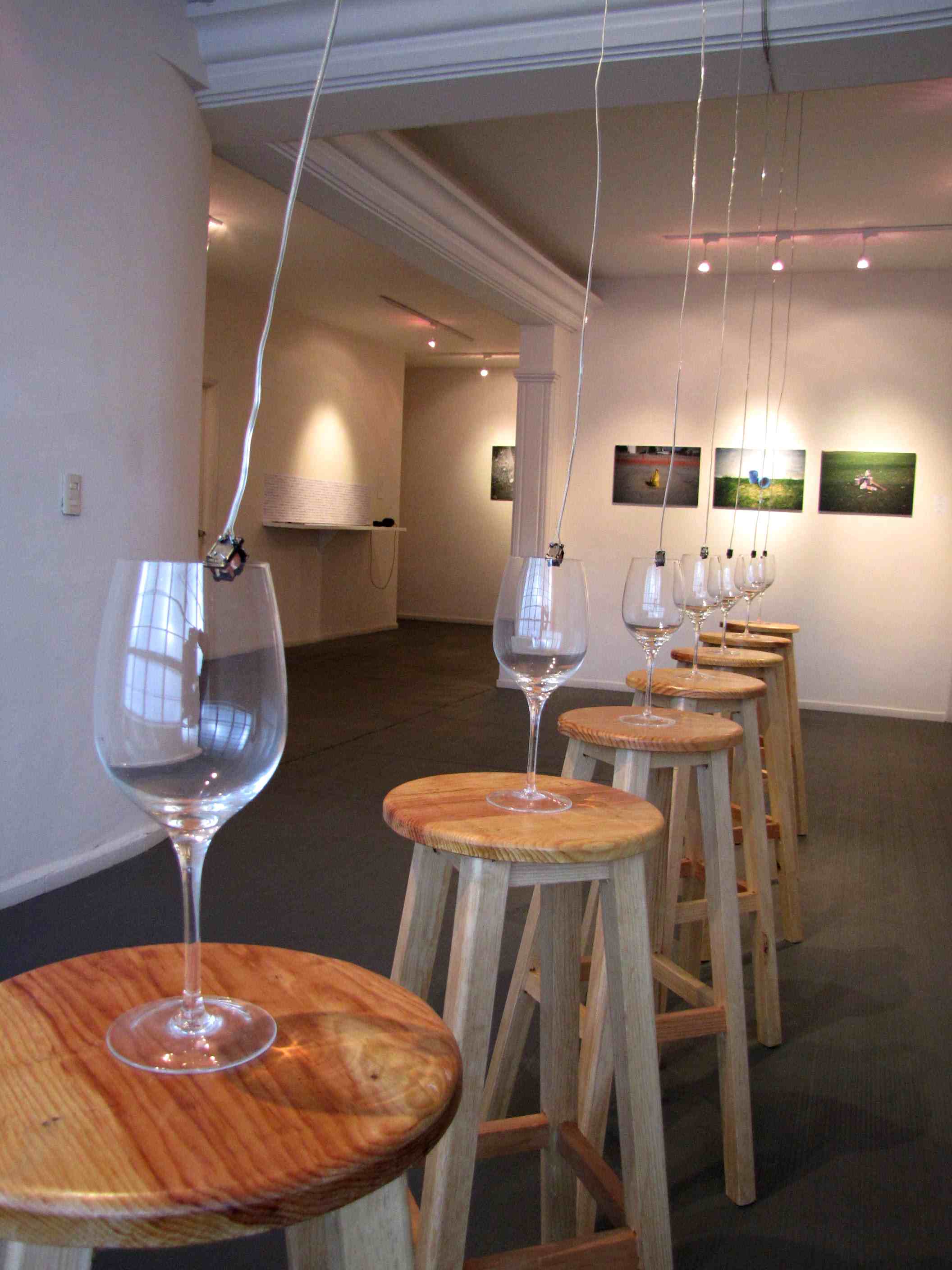 Dentro afuera dentro. La Constancia. Plataforma Puebla 2007.
Siete COPiAS - INSTRUCCIONES PARA REALIZAR LA OBRA
VAYA A UN ALMACÉN Y ESCOGA SIETE COPAS DE VINO GRANDES DE UN MISMO MODELO. LLEVELAS A SU HOGAR Y DISPÓNGALAS EN UNA MESA, O EN VARIAS BASES EN LINEA RECTA SEPARANDO UNA COPA DE OTRA ENTRE 60 CENTIMETROS Y UN METRO MAXIMO.

LAS COPAS VACÍAS SIN VINO, PARECEN PEDIR SER LLENADAS POR SU PROPIO SONIDO. HAGA SONAR DE MANERA MECÁNICA O CON VARIOS PERCUSIONISTAS A LAS SIETE COPAS, PERCUTIENDO ALGUNO DE SUS BORDES SUPERIORES DE LA SIGUIENTE MANERA:

PRIMER ESTADO: UNA COPA ESCOGIDA AL AZAR COMIENZA A SONAR DURANTE AL MENOS 10 SEGUNDOS (60 SEGUNDOS MAXIMO), AL TERMINAR SUENA OTRA, OTRA MAS, OTRA MAS, ETC, HASTA QUE TODAS HAYAN VIBRADO DE MANERA INDIVUDUAL.

SEGUNDO ESTADO: UNA COPA ESCOGIDA AL AZAR COMIENZA A SONAR, A LOS 10 SEGUNDOS O MÁS LA SEGUNDA COPA SUENA PERO LA PRIMERA NO SE CALLA, LUEGO SUENAN LA TERCERA, LA CUARTA, LA QUINTA, LA SEXTA Y LA SEPTIMA. CUANDO TODAS LAS COPAS ESTAN SONANDO AL MISMO TIEMPO, SE COMIENZAN A RESTAR POCO A POCO HASTA QUE TODAS CALLAN.

TERCER ESTADO: TODAS LAS COPAS SUENAN AL MISMO TIEMPO PERO CON RITMOS DISTINTOS DURANTE DOS MINUTO POR LO MENOS. ESTE PROCESO SE VUELVE A REPETIR INDEFINIDAMENTE, DEJANDO SIEMPRE UN SILENCIO DE DURACION INDETERMINADA ENTRE CADA ESTADO. CUAL ES LA FRECUENCIA ORIGINAL DE ESTE SET DE 7 COPAS APARENTEMENTE IGUALES? NINGUNA, SUS FRECUENCIAS SON DISTINTAS DEBIDO A LA IMPERFECCIÓN DEL VIDRIO. LA ORIGINALIDAD POR LO TANTO ESTA EN LA SUMA DE SUS FRECUENCIAS, EN LA ARMONIA DE LA ESCALA MICROTONAL ENCONTRADA.

SI QUIERE OTRA ESCALA Y ARMONIA MICROTONALES DISTINTAS, POR FAVOR VAYA AL ALMACEN Y COMPRE OTRO SET DE 7 COPAS IGUALES Y REPITA ESTAS OPERACIONES.
---