---
Transición - Transition
Technique: Different types of broken guitars. 5 audio tracks. 5 speakers. 5.1 DVD player.
2016 - ] entre [. Le Laboratoire Gallery. México City. Curator: Bárbara Perea.
This work was produced for my individual exhibition in Le Laboratoire gallery in 2016. The general discourse of the show was to situate myself in the Nietzschean Dionysian realm, a field that takes action starting form the constructive destruction, but never leaving aside de Apollonian, a bit of order and aesthetic equilibrium. I searched for broken guitars and found various luthiers that had them abandoned, waiting perhaps to be fixed some day? Buying them a exhibiting them again, I have taken them out from oblivion and their limbo, to place them in a new one where they have a new potential, to be in contact with a public and gain perhaps the hope to be working again in the future or to pass to a new material and energetic state. At the same time, I provided the string instruments with sounds that come from their interior, they are recorded strokes on guitars that still have their strings, but randomly tuned, simulating in this way the electroshocks given to some one who's hart has stopped.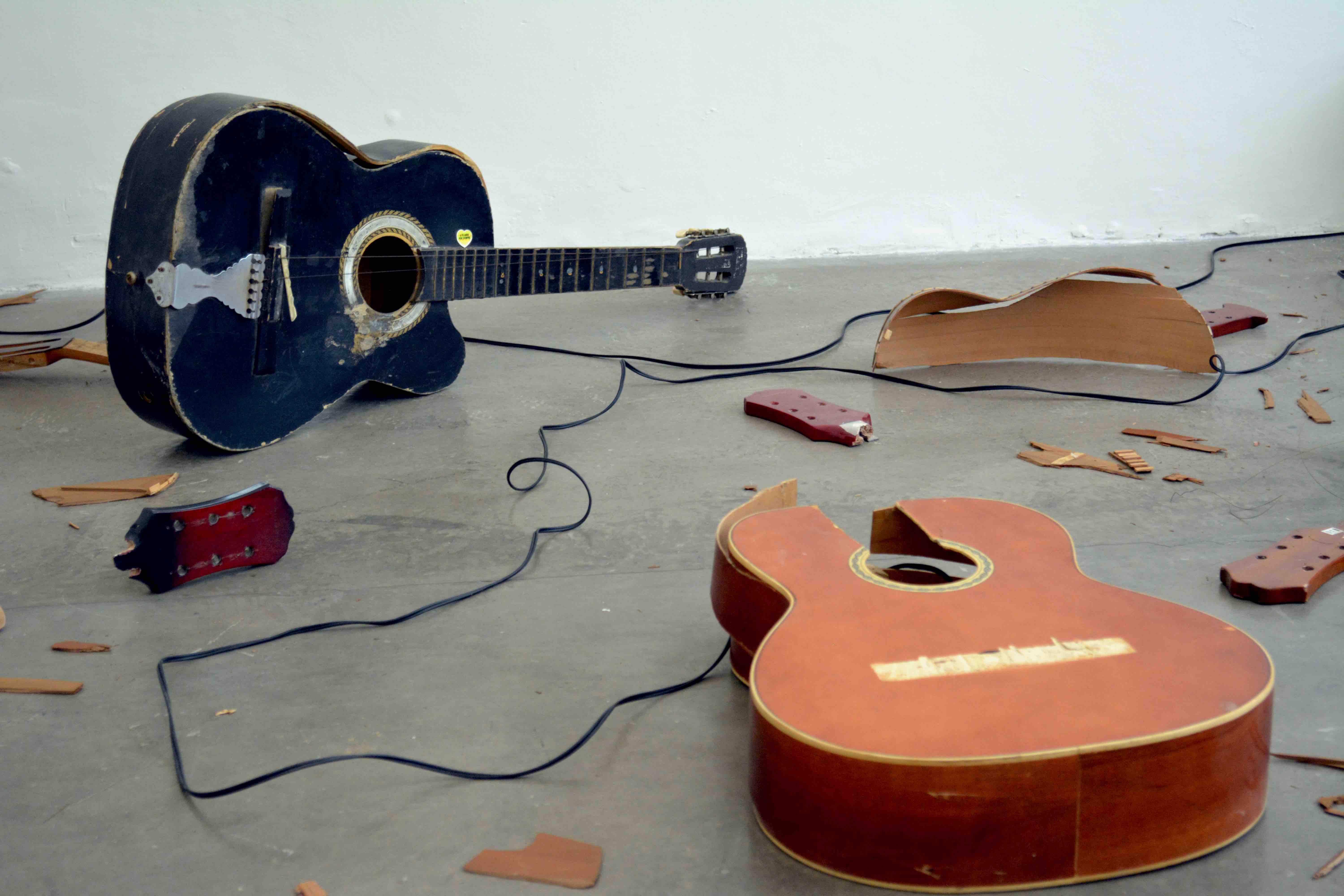 ] entre [. Le Laboratoire Gallery. México City.
Esta obra fue producida para mi exposición individual en la galería Le Laboratoire en 2016. El discurso general de la muestra era situarme en lo dionisíaco Nitezschiano, campo que acciona a partir de la destrucción constructiva, pero nunca dejando de lado o abandonando por completo lo apolíneo, cierto orden y equilibrio estético. Busqué guitarras rotas y encontré a varios lauderos que las tenían medio abandonadas, en espera de ser arregladas algún día. Al comprarlas y volver a exhibirlas, las he sacado del olvido y de su limbo, para colocarlas en uno nuevo en donde tienen un nuevo potencial, estar en contacto con el público y adquirir la esperanza de tal vez volver a funcionar algún día o de pasar a un nuevo estado matérico y energético. Al mismo tiempo, proveí a los instrumentos de cuerda de sonidos que salen de manera esporádica de su interior, se trata de golpes grabados con guitarras que todavía tenían sus cuerdas, pero que estaban azarosamente afinadas, simulando de este modo los golpes eléctricos (electroshocks) que le dan a alguien en el corazón cuando este ha dejado de funcionar.
---