Duration: 9'24
For: Piano and two digital tracks, dedicated to AKi Takahashi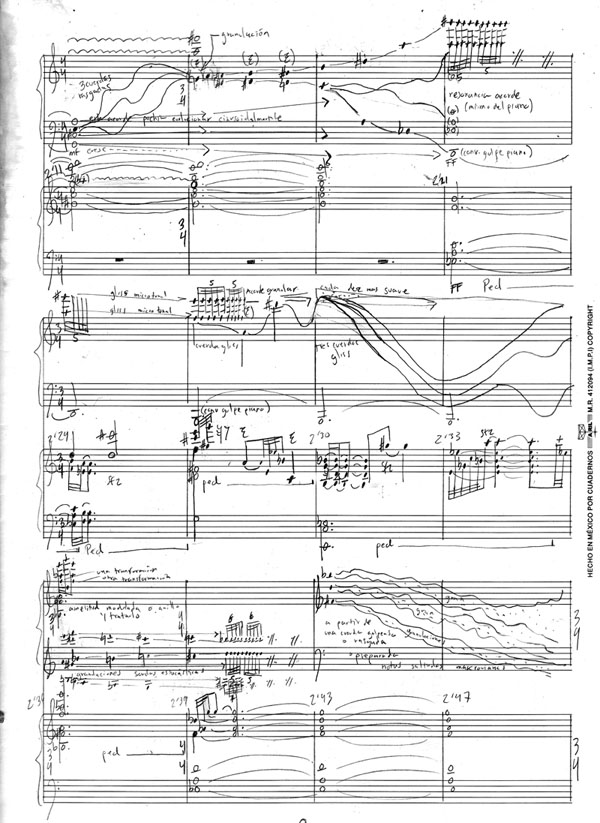 Ashimakase is a composition based on the idea of random walks that could eventually take you to places where you will voluntarily stay for a period of time contemplating the found landscape. This experience has been part of my practice not only as a composer (while recording soundscapes in new places, like visiting a new city for example), but it is also related to the activity of photographing: randomly hunting for images and then finding what we are looking for and capturing it, freezing it in time. The electronics of the piece are meant to be as a kind of response (like a work for two pianos), where the piano electronic sounds become more liberated and abstract, but in this case the real acoustic piano is the instrument that drives the piece through.
The work is divided in 5 sections, the 1, 3 and 5 portions being based on these chance strolls that musically could relate to arborifications and stochastic music, and the 2 and 4 portions being inspired on the two moments in the piece where we found something, a stillness (that could musically relate to stasis in music) that lets us concentrate end enjoy those fragments for a little while.
While looking for a title (I wanted a title in Japanese), I rediscovered the early XX century Japanese Haiku writer Taneda Santoka, a man that became a Buddhist Monk (after a tragic life) and walked aimlessly through all Japan, founding randomly enlightened moments that became some of his Haikus.
Finally, the Project for this composition started 10 years ago, when I met Aki Takahashi while living in Tokyo. I heard her piano interpretation of Xenakis and Feldman and liked it allot, and she heard some of my music and also appreciated it. I proposed to write a piece for her then that could not be written until today. I want to thank Aki for all her support premiering this new work
---