This originally 20-track soundscape composition was made for the "Espacio de experimentación sonora" (Experimental sound space) in the MUAC Contemporary Art Museum in Mexico City in March 2012. A space allowing the spacialization of sounds in 3 vertical levels and 360 degrees. This quality was ideal to create a virtual soundscape from different kinds of sound recordings, enhancing the idea of chance and the unexpected.
I did not want to do a formal composition, where form and structure were the essential elements, but to create a situation of privileged listening that can't exist in the real world.

The central theme of this work has to do with the virtual and metaphoric recreation of soundscapes that we listen clearly, far away, in the room of our house through an open window, in an isolated park in the middle of the city, etc. But the idea here was to replace some of the common soundscape sounds with instrumental and electronic sounds, mixed up with daily concrete sounds, like the telephone ringing, bells in a temple in India sounded by the worshipers, etc. In this way, these different sound worlds mix up, recreating interesting soundscapes that interact with each other, and offering in this way a new realm where the sounds are different in color from those in reality, but at the same time, a realm that benefits from the structural and textural complexity of the real world, because our goal was to create these new processes by imitating it. Linear and non linear listening is the most important element in the piece, as well as the relation of continuity with discontinuity, the different changes in density, and going from Casi Nada (almost nothing) to a medium and high density, and then again at the end to almost nothing (presque rien, a term invented by French Composer Luc Ferrari). The composition ends with a real soundscape that was recorded in a bird sanctuary in India, a presque rien recording which after listening to the coloristic complexity of the work, becomes more vivid. Also, after coming out from this experimental multi track space, it was amazing how we would listen the outdoor sounds of the museum in a complete new way.
This is an 8 track version of the piece.
---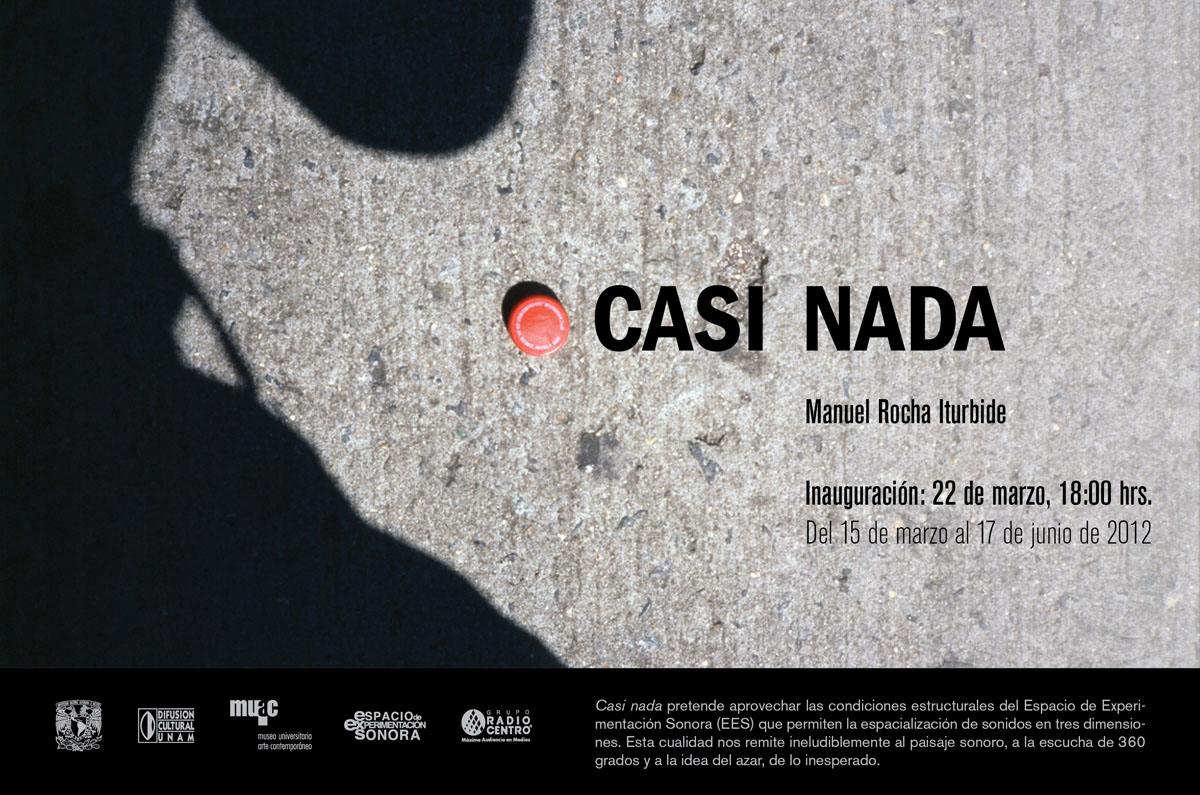 Esta obra fue un encargo para el Espacio de Experimentación Sonora del Museo de arte contemporáneo MUAC de la UNAM, lugar que permite la espacialización de sonidos en 3 niveles con un total de 20 tracks. Esta cualidad nos remite ineludiblemente al paisaje sonoro, a la escucha de 360 grados, y a la idea del azar, de lo inesperado.

El tema central de la obra tiene que ver con la recreación virtual y metafórica de paisajes sonoros que escuchamos con nitidez, a lo lejos, en el cuarto de nuestra casa a través de la ventana, en un parque alejado de las calles ruidosas, etc. Pero aquí la idea es reemplazar los elementos comunes del paisaje sonoro por sonidos instrumentales, electrónicos, pero también por sonidos concretos del día a día, como puede ser el ruido de unos platos que se lavan, una puerta que se cierra, o un automóvil que pasa. De este modo, estos tres mundos sonoros se confunden, recreando estructuras interesantes de paisajes sonoros casi nada alguna vez escuchados, interactuando entre sí, y ofreciéndonos un mundo nuevo y sofisticado en el que la riqueza colorística es mayor que en el mundo real (una especie de hiperrealidad), pero al mismo tiempo, un mundo nuevo que depende y se beneficia de la complejidad estructural y textural del mundo real, pues nuestra meta es crear estos nuevos procesos al intentar imitarlo.
Decidí también meter sonidos instrumentales producidos mediante técnicas extendidas (flauta y cuerdas) que se asemejan a sonidos de la naturaleza.
La producción de los sonidos será producida ya sea en una mezcla preestablecida en el sistema multicanal del museo, o bien de manera algorítmica por una computadora (Con Max MSP). En este segundo caso, la obra siempre sería distinta, tan solo respetando distintos cambios de estados de densidad y estructura, una obra abierta.
---