---
Empty Piano
Technique: Sculpture. Dismantled and emptied wall Piano. Variable measures.

2016 - ] entre [. Le Laboratoire gallery. Mexico City.
Empty Piano. Aaction at Le Laboratoire. Manuel Rocha Iturbide and Roberto Trunbull. September 2016.
A broke down wall piano to whom we have carried a kind of autopsy, depriving it of all its internal mechanisms except for its harp, its bony structure. To this empty piano that can't be performed in a traditional way, we have carried out metaphorical radiographies placing different kinds of papers the length of the harp and executing frottage's (technique consisting of scraping a pencil or piece of graphite or carbon over un object) and strikeage (same technique described before but striking the paper with percussion mallets covered with graphite or carbon powder). The graphic results of these processes are a type of photographic images that remind us of the Jesus Christ Turin Shroud (the linen cloth that covered him after dying in the cross that was fixed up with his image). To generate these images, it was necessary to make the piano skeleton to vibrate again, scraping and striking its strings with pieces of carbon, graphite and mallets. At the end, we have only an empty piano, but with the sonic and visual memory of the actions that made it resonate, along with the percussion mallets that participated and that rest still inert and motionless, waiting for someone to use them to make the strings resonate once more.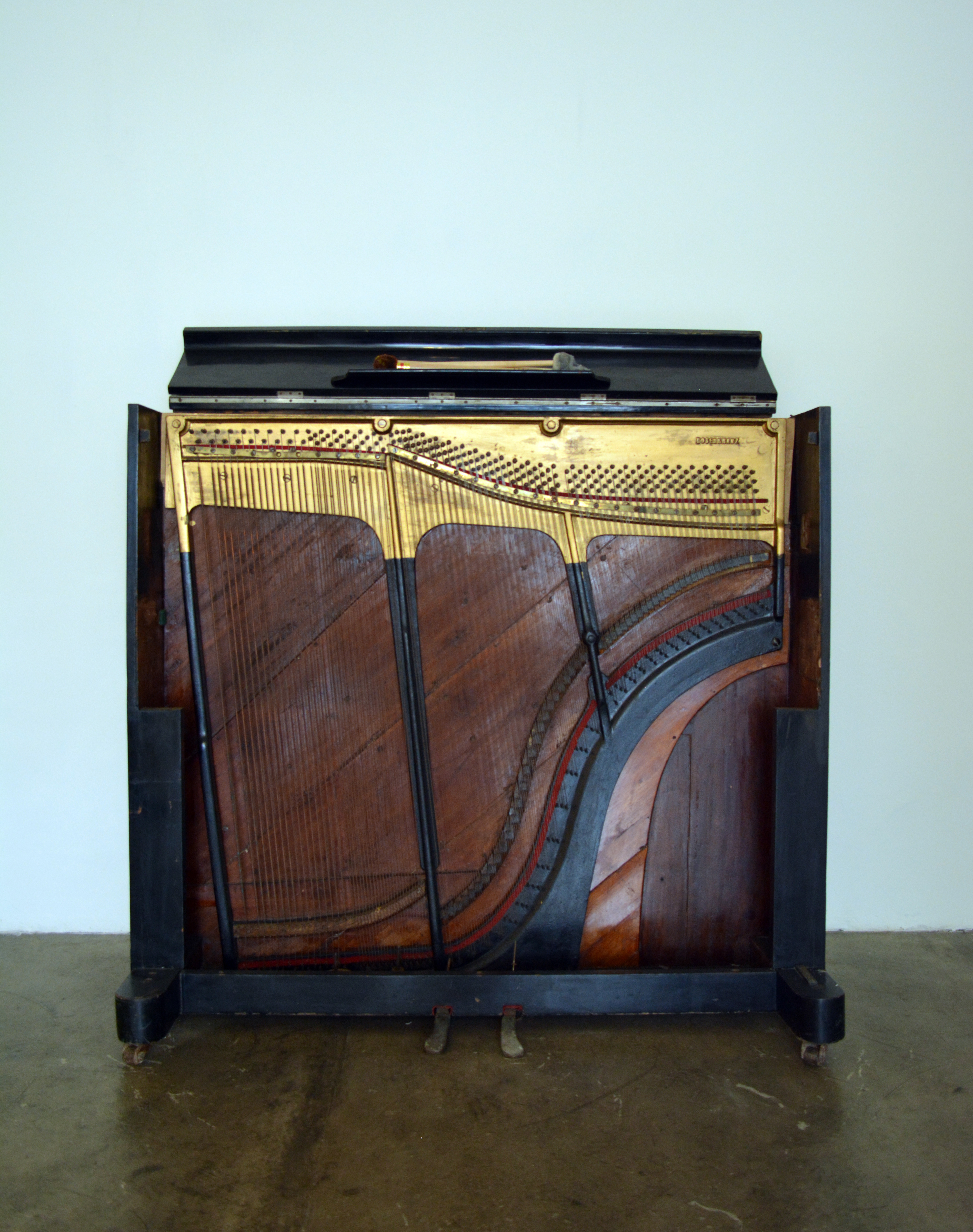 ] entre [. Le Laboratoire gallery. Mexico City. 2016.
Empty Piano - Piano Vacío
Un piano de pared descompuesto al que se le ha efectuado una especie de autopsia desproveyéndolo de todos sus mecanismos internos salvo de su arpa, su estructura "ósea". A éste piano vacío que ya no puede ser tocado de manera tradicional se le han efectuado radiografías metafóricas colocando distintos papeles del tamaño del arpa y realizando frottages (técnica que consiste en frotar un lápiz o pedazo de grafito o carbón sobre un objeto) y golpages (misma técnica descrita anteriormente pero a partir de golpes con baquetas de percusión cubiertas de grafito o carbón en polvo). Los resultados gráficos de estos procesos son especies de imágenes fotográficas que nos recuerdan al sudario de Jesucristo (el manto con el que fue cubierto después de morir en la cruz que fijó su cuerpo). Para generar estas imágenes, fue necesario volver a hacer vibrar el esqueleto del piano, frotar y golpear sus cuerdas con pedazos de carbón, de grafito y baquetas. Al final nos volvimos a quedar con el piano vacío, pero junto con una memoria sónica y visual de las acciones que lo han hecho resonar, así como con las baquetas de percusión que participaron que yacen quietas e inertes esperando tal vez a que alguien vuelva a emplearlas para hacer sonar las cuerdas una vez más.
---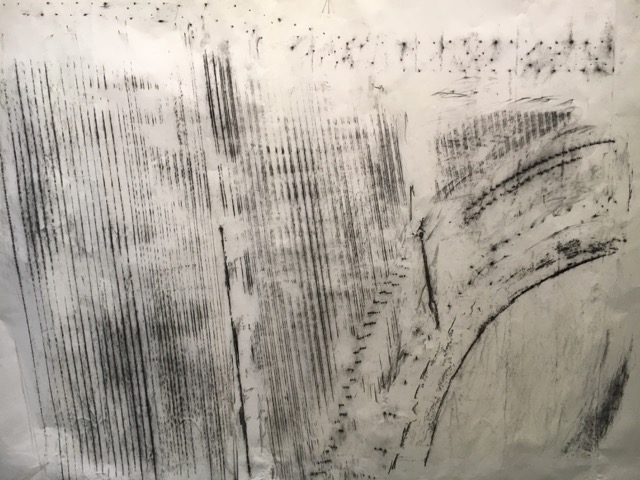 Empty Piano. Radiografía I.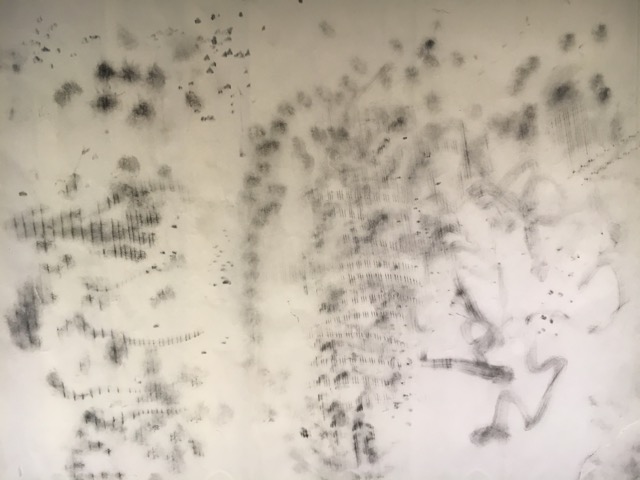 Empty Piano. Radiografía II.