This work is metaphor about the first process in Alchemy. Nigredo is the initial state of the prima materia, or the chaos, or the massa confusa. It is produced by the separation of the elements: solutio, separatio, divisio, putrefactio. This separation is assumed from the beginning, the union of opposites is taken care of as a union of male-female (Called: coniugium, matrimonium, coniunction and coitus) followed by the death of the union product (mortificatio, calcinatio, putrefactio) and the correspondent Nigredo. Symbolically, this process brought decay, suffering, death, and the torments of hell visible to the eyes of the Alchemist, as well as a melancholy and solitude condition. In this matter state, the initiated experimented grotesque images that reflected the conflict of the oppositions realm where he had entered. His alchemical work started then with the Kata basis, a trip into the infra world, similar to the one Dante made in The lost paradise (Il paradiso perduto), or San Juan de la Cruz in The dark night (La noche obscura).

This sound installation consists of eight black steel comales (hotplates) of different sizes and eight sound tracks being fed to them. They represent different Mexican individuals in our society. In them, a mixture of burned oil and water seems to boil, due to the low frequency sounds produced by the speakers beneath them. It is as if the sound was converted into fire. With this experiment I am trying to brake and purify the oily molecules greatly consumed by Mexicans in the multiple puestos de fritangas (Mexican oily food spots) in the streets of towns and cities. Our country has the first place in the world of fat female people, and second or third of male. The cholesterol and diabetes problems are only one of too many reflections of the different problems that afflict our society due to bad education, social inequity, poverty, and the subsequent ignorance of most of our population. This alchemical intent is only the beginning, the first necessary process for a possible transformation of our putrefied matter, as well as of our inner selves.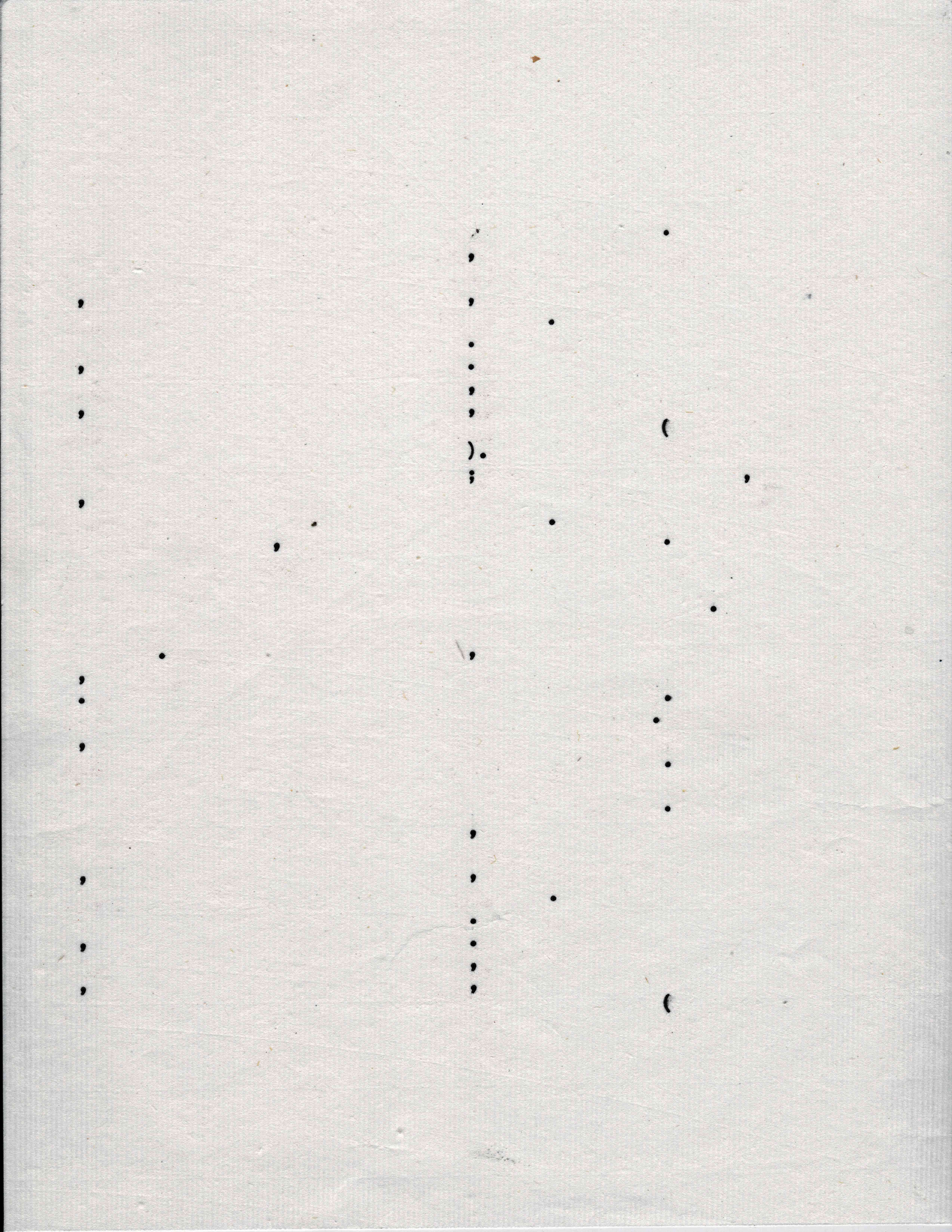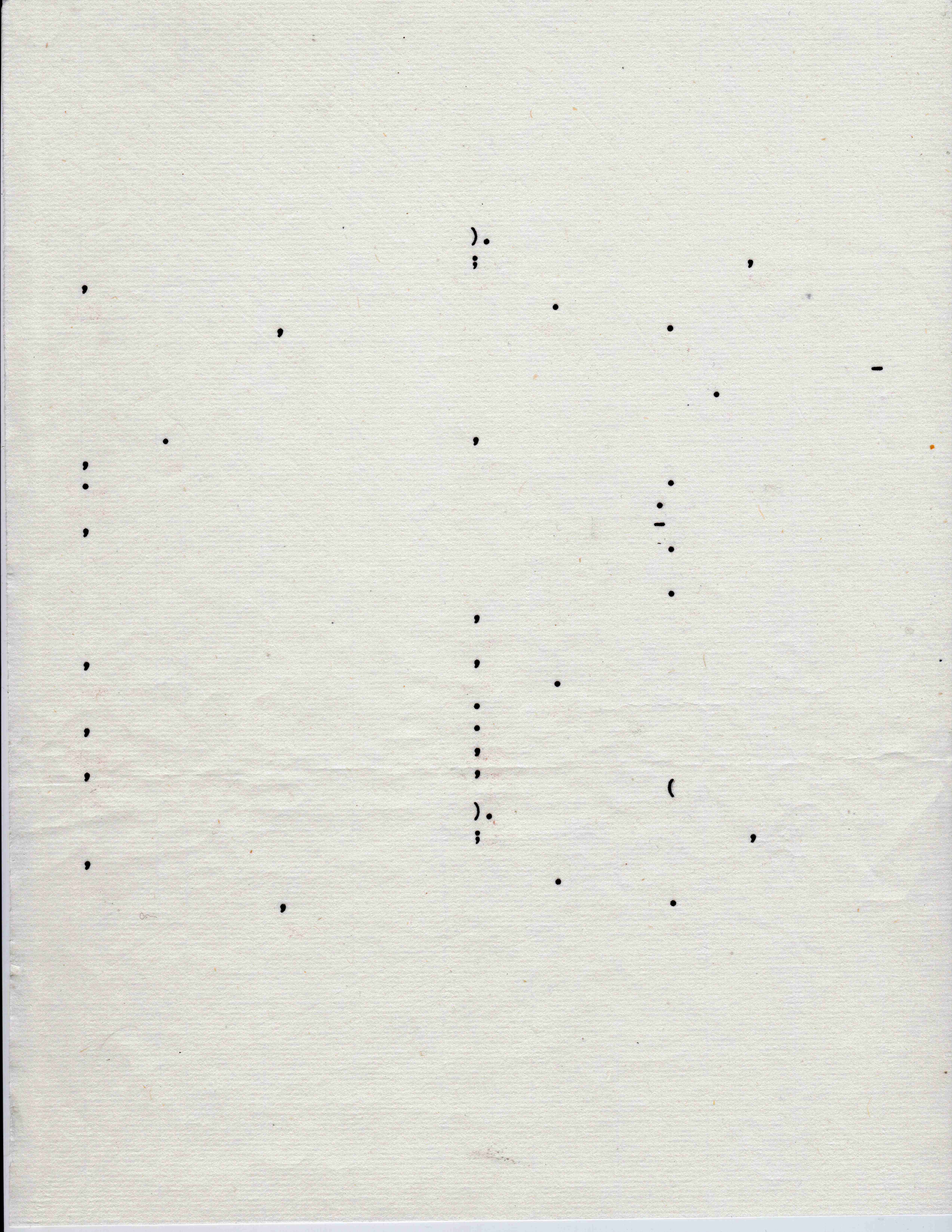 2 of the 17 pages of Lecture on Nothing
En esta obra intento comentar la inutilidad del texto publicado por John Cage en 1959, en donde estructura de manera sofisticada una serie de ideas y pensamientos acerca de la nada.

Cage elabora acerca del no decir, pero termina diciendo. Yo intento borrar a Cage para salvarlo de su paradójico error. Lo único que hago entonces es borrar todas sus palabras y dejar tan solo los signos de puntuación que las enmarcan (las pausas de su pensamiento ?).

Al final, al tratar de borrar las ideas del compositor, acabo por enfatizar la estructura musical que le quiso dar al texto, descubriendo una serie de constelaciones sígnicas caóticas que sin embargo poco a poco se van ordenando. Intento demostrar de este modo la imposibilidad del compositor de hablar de la nada, por enfatizar el azar y la entropía (que para mi en este caso es la nada), y en cambio, desvelo sin querer la obsesión de Cage por la forma musical basada en las duraciones. Creo finalmente una nueva estructura estética asentada en la irrupción de un silencio visual por signos de puntuación que pierden su significado literario y se convierten en otra cosa.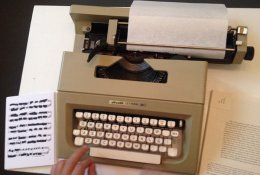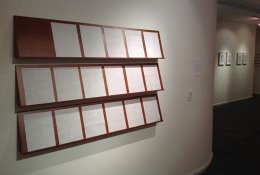 Zona Vacía. Le Laboratoire Gallery. México City.