---
OFF SIDE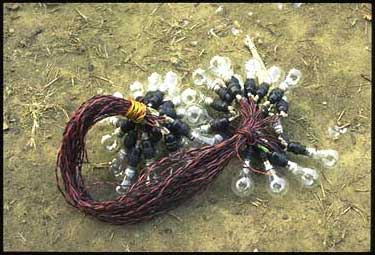 Autofocos. From the series Off Side. 1999.
Off Side is a series of eleven photographs taken in India and in Thailand in January and October 1998. These color images represent dislocated objects, which seem to be out of phase and out of balance. They are images conceived in the Duchampian tradition of the ready-made, but in this case, the objects are unfolded and out of context from the beginning.
This work was made for the first international photography biennial in Mexico City, which had as its main theme: Borders. I thought about the possible coexistence between visual objects and sound objects. During my stay in India, I recorded a series of sound scapes, that is, sound images. I thought about the possibility of realizing a counterpoint between the objects which I photographed and various sound scenes which had to do with actions that seemed to be out of place. For example, the sound of hundreds of birds and a broom cleaning the floor, or the sound of an Indian pop song coming out from a boom box in the middle of the city. I finally chose four sound scapes that are somehow related to the title of my work.
The conjunction of eleven visual images with four sound images constitutes the counterpoint between two opposed spaces, the visual space and the sound space. Nonetheless, the vision and the interest of the photographer and of the sound taker are in this case the same. The border is established starting from the medium in which the reality was registered, the hyper high frequency color light waves, or the audible audio waves. At the end, everything registered is waves, and all recorded objects are a testimony of the hazardous encounter with these sound and visual elements.
On the other hand, establishing not well defined borders between two different media constitutes the creation of parallel spaces, which in their interaction reinforce the idea of dislocation, the idea of an offside, that is, of braking the traditional rules of the game.
For the presentation of this audiovisual, the eleven slides are projected with a timer that gives 25 seconds to each image. At the same time, a CD in random play selects randomly the four sound tracks that last between three and five minutes each. The materials needed for this presentation are: a slide projector with timer, an amplifier, a CD player, and two loud speakers.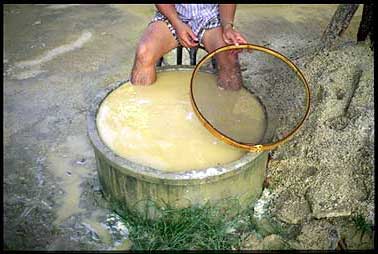 Out of Phase. De la serie Off Side. 1999.
---
OFF SIDE
Off Side es una serie de 11 fotografías tomadas en la India y en Tailandia en Enero y Octubre de 1998. Estas transparencias a color representan objetos desfasados, desarticulados, dislocados. Son imagenes concebidas dentro de la tradición Duchampiana del ready made, pero en este caso, los objetos se encuentran descontextualizados y desdoblados desde un inicio. En este sentido existe una doble descontextualización, el objeto absurdo y en desequilibrio en el momento del disparo fotográfico, y luego las imágenes transladadas a un espacio artístico.
El tema Fronteras de la primera bienal internacional de de fotografía en México me trajo a la mente una idea largamente masticada: la posible convivencia entre objetos visuales (imágenes fotográficas en este caso) y objetos sonoros. Durante mi viaje a la India, además de fotografiar estuve también grabando paisajes sonoros, es decir, imágenes de carácter sonoro. Pensé en la posibilidad de realizar un contrapunto entre los objetos que fotografiaba, y alguas escenas sonoras que tuvieran que ver con acciones que parecieran estar también fuera de lugar. Por ejemplo, el ruido de las tijeras de un peluquero en medio de una plaza pública, o debajo de un arbol en el que cantan los pajaros; la melodía de una canción indú comercial de la radio en medio de un ritual en el río ganges; el ruido enloquecido y surreal de una pequeña ciudad de la india al ser recorrida en una moto-taxi, etc. Realicé pues una selección meticulosa de 4 imágenes sonoras (de las ocho horas que grabe en formato digital DAT) que se relacionan de algún modo con el título de mi serie.
La unión de 11 imágenes vusuales con 4 imágenes sonoras constituye un contrapunto entre dos espacios opuestos, el visual y el sonoro, pero sin embargo, la visión y el interés del retratador y del grabador es en este caso la misma. La frontera se define a partir del medio en el que se quiera registrar la realidad, las ondas de hiper alta frecuencia de los colores visibles, o las ondas audibles de mucha menor frecuencia. Al final de cuentas, todo lo registrado son ondas, y todos los objetos que han sido plasmados constituyen el testimonio de un encuentro fortuito y azaroso con un individuo receptor (en este caso yo).
Por otro lado, el hecho de establecer fronteras muy poco definidas entre dos medios distintos contribuye a la creación de espacios paralelos, que en su interacción, refuerzan la idea de dislocación, la idea de un offside, de un rompimiento con las reglas tradicionales de un juego.
Para la presentación audiovisual de Fuera de Lugar, se proyectan las once imágenes con un timer que les da un tiempo de 25 segundos a cada una, al tiempo que un CD en random play selecciona azarosamente los cuatro paisajes sonoros escogidos y que tienen una duración de entre 3 y 5 minutos cada uno. Se requiere de un proyector de transparencias con timer, un amplificador, un lector de CD y dos bafles.
| | | |
| --- | --- | --- |
| 3 Eyes De la serie OFF SIDE | Contacto De la serie OFF SIDE | Aro De la serie OFF SIDE |
| Unfolded Lamp De la serie OFF SIDE | Cubeta De la serie OFF SIDE | Out of Sink De la serie OFF SIDE |
| Concreto y Acero De la serie OFF SIDE | Arroz De la serie OFF SIDE | Out of Balance De la serie OFF SIDE |
3 eyes. De la serie Off Side. 1999.
---